5 Hallmarks of a Great Wealth Manager
For investors, it's both the best time and one of the worst headaches to find a trustworthy wealth manager to care for your portfolio.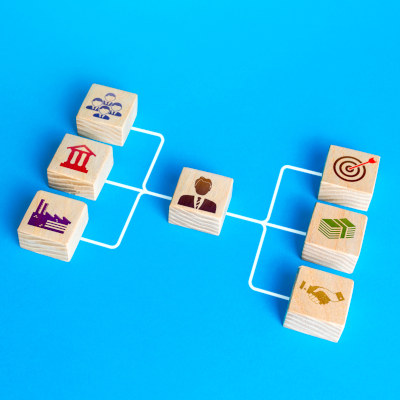 It's great in the sense that investors today have more options than ever for building their portfolio, from DIY tools, to online financial planners, all the way to sophisticated wealth management firms. It's a headache because there are so many options out there, and it's hard to audition wealth managers without making a lot of calls and going for a lot of hour-long coffee meetings.
We get it. At a certain point, you just want to find a partner, get your portfolio on track, and move on with your life. But it's too important of a task to just settle.
Whether you're dissatisfied with your current wealth manager and exploring new options or starting from scratch, we think your next move should be your last one. Here are five characteristics you should be looking for to make sure that's the case.
1. The Fiduciary Standard
As we've written previously, just about anyone can call themselves a financial advisor or wealth manager—what sets the best financial advisers apart is a commitment to the fiduciary standard. That's a legal standard set in federal code that requires advisers to act in their clients' best interests at all times.
While fiduciary advisers are legally bound to act in their client's best interests, the same rule does not apply to all financial advisors, many of whom can receive compensation from sales commissions or other "kick backs," in addition to any fees they charge you.
We started Cedar Point Capital Partners because we knew we wanted to serve our clients as true fiduciaries. As a Registered Investment Adviser (RIA), we operate under the fiduciary standard and are paid only by fees, and only from our clients (a model known as "fee-only"). This helps to eliminate conflicts of interest and allows our clients to fully trust our advice isn't tainted by the potential for additional compensation based on our recommendations.
2. Complete Transparency
You should expect transparency in every aspect of your relationship with a great wealth manager. That includes transparency regarding your fee structure, the services you'll be provided by the firm, and your investment performance.
Don't be afraid to ask yourself if you truly know what you're getting for the fees you pay your financial professionals. If you can't define it, or your wealth manager is hesitant to disclose it, consider that a red flag. In the words of President Ronald Regan, we must trust, but verify.
It's easy to assume that the financial adviser you're working with is operating with transparency, but many professionals in our field would prefer to hedge the responsibility for their long-term execution. That's usually when transparency suffers.
Here at Cedar Point Capital Partners, we're proud to take on the responsibility of helping our clients build a life well-lived. We want you to understand everything we're doing and the rationale behind our decisions, because it's ultimately your money, and you need to be satisfied with how we're handling it. Not all wealth management firms can say that.
3. The Right Expertise and Certifications
A great wealth manager distinguishes themselves through their expertise and knowledge of the financial landscape. Whoever you choose as a financial partner should have a deep understanding of investment strategies, tax and risk management techniques and the general complexities of the market, but also be able to break that down into easier-to-understand chunks.
Part of a wealth manager's expertise comes from experience—if you spend a lot of time in the financial world, you're going to see a lot of things—but it's also about having the right credentials. The financial field is big and specialized, meaning you want a partner trained for your specific need.
For example, at Cedar Point Capital Partners, each of our partners has earned the Accredited Investment Fiduciary designation; our firm also carries the Certified Investment Management Analyst (CIMA®), the CERTIFIED FINANCIAL PLANNER™(CFP®), the Retirement Management Advisor (RMA®), and the Certified Private Wealth Advisor (CPWA®) professional certifications. That means we can help you with just about any financial planning or wealth management need you might encounter.
4. A Focus on Process
A great wealth manager has well-defined processes and sticks to them, knowing that a systematic approach to investing almost always beats an emotional one.
It can be tempting to jump on the hot stock or a momentum swing, and many brokers and financial salespeople are more than happy to oblige. The best wealth managers are playing the long game and advise their clients as such—even when that means throwing some cold water on the fire.
We've built our firm on an evidence-based philosophy that's all about relying on empirical evidence, validated research, and long-term historical data to make financial decisions that align with your goals. We rely on decades of data and market cycles, rigorous analytics, and our understanding of your personal goals to inform any change we recommend or make.
We believe that allows clients to rest easier during periods of extreme volatility, knowing there's a framework focused on long-term outcomes, not caught-up with the latest fad.
5. Flexibility for Life
Another hallmark of a great wealth manager is their ability to adapt portfolios and investment strategies as life changes. The change could be slow, like the financial transition from work to retirement, or really fast, like a life-changing accident or an unexpected financial windfall.
In either case, your financial partner needs to be able to navigate challenges and seize opportunities, all while sticking to the process and keeping your best interests front and center.
Here at Cedar Point Capital Partners, we believe "flexibility" also applies to the team approach we bring to serving clients. While wealth management departments at bigger firms may boast a lot of people, your adviser is likely working their own book of business under the banner of that firm—call while your adviser is out on vacation, and you'll be waiting until they get back.
Instead, we pride ourselves on working in a coordinated and collaborative manner, so our clients receive the benefit of our team's collected expertise, without the wait.
Because we build actual relationships with our clients, we are also supremely flexible when it comes to service. We don't follow banker's hours because life doesn't follow banker's hours. We are here for you when you need us and won't be bothered if you call late or on the weekends (within reason, of course).
We want to help you with your challenge or give you an objective recommendation so you can get back to your life, wherever it takes you. If your wealth manager makes you feel more like a problem than a partner, it's a sign you haven't found the one.
Selecting a wealth manager is a big decision that can determine your family's financial future. If you can find a partner with these five characteristics, you should have a great foundation for a long and fruitful working relationship. Remember, the pursuit of exceptional financial guidance is an investment in your own prosperity and peace of mind.
If you're searching for the right financial partner, let us show you how we're different from the big firms. Give us a call today for a free consultation, and let's grow together.
---
The commentary on this blog reflects the personal opinions, viewpoints, and analyses of Cedar Point Capital Partners (CPCP) employees providing such comments and should not be regarded as a description of advisory services provided by CPCP or performance returns of any CPCP client. The views reflected in the commentary are subject to change at any time without notice. Nothing on this blog constitutes investment advice, performance data or any recommendation that any particular security, portfolio of securities, transaction, or investment strategy is suitable for any specific person. Any mention of a particular security and related performance data is not a recommendation to buy or sell that security. Cedar Point Capital Partners manages its clients' accounts using a variety of investment techniques and strategies, which are not necessarily discussed in the commentary. Investments in securities involve the risk of loss. Past performance is no guarantee of future results.