The Importance of Discipline in Investing (and Football)
This post is by Cedar Point Capital Partners' co-founder and partner David Ernst, who is marking his 35th year of coaching football at Kennedy High School in Cedar Rapids (and shown below).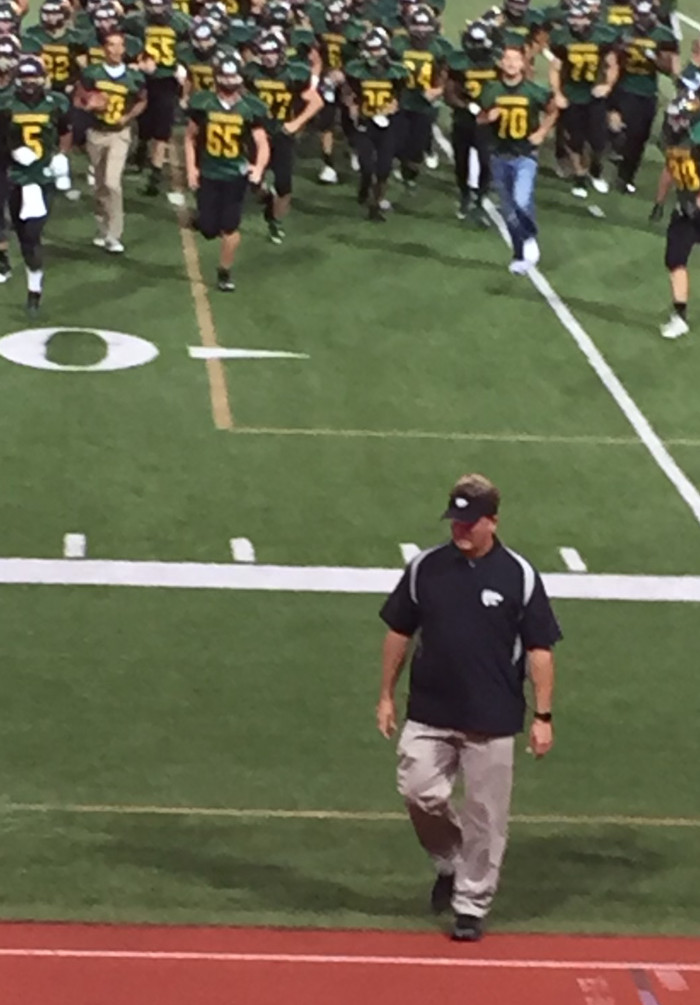 I've been blessed to have a long career, both in the financial world and as a football coach here in my hometown of Cedar Rapids. Both investing and football have taught me a lot of life lessons, and about each other, really. Perhaps one of the biggest lessons is the importance of discipline in achieving your long-term goals.
These days, when people hear the word "discipline," it seems like they tend to think of it from the perspective of punishment, whether it's your rowdy kids, a wayward employee or your dog. You discipline someone when they've done something wrong or undesirable, with the hopes that they don't do it again (hope being the key word here).
Discipline is a negative in most people's minds, and I get that—who likes to be scolded or set straight?
The way we use the word "discipline" here at Cedar Point Capital Partners and on the Kennedy practice field, however, is for its other meaning: controlled behavior in the service of a bigger goal.
The Importance of Discipline in Investing
In today's world, it's really easy to give into your desires, whims and fears. It feels gratifying in the moment, and it feels comfortable. But is that really what is best for you in the long run?
For the football players I coach, it's easy for them to spend their afternoons watching TV or stay up late surfing social media. It's easy to order that double cheeseburger and fries when they go out to eat instead of the healthy option.
For the investors we work with, it's easy to buy that hot stock on a tip or sell when the financial press says a recession is coming. It's easy to reduce your savings contributions and assume you'll be able to make it up in the future, or ignore the tax implications of a sale and get the money now.
Part of what I've spent much of my career doing is trying to instill the long-term value of making difficult decisions in the face of multiple choices, whether that's going to bed so you're rested for those early morning workouts or sticking with your IRA contributions even when things get tight. It's about setting a standard and living up to it.
And let me tell you—it's not easy. A lot of discipline is boring and frankly not immediately gratifying. Eating a plate of brown rice and broccoli is much less fun than that cheeseburger. Diversifying your portfolio across a wide range of asset classes is less fun than watching your stock values shoot up on the back of a few lucky picks.
Discipline isn't just a word; it's controlling your behavior in service of those bigger goals that take time to accomplish, even when it's not fun or convenient to do so. It's blocking and tackling on every play. It's consistency in your actions.
Unfortunately, part of building that consistency does relate to correcting unsuccessful behaviors. That's the "punishment" part of discipline that so many people reflexively shy away from these days, although it rarely needs to involve uncomfortable conversations.
Whether you coach kids or employees, you know you sometimes need to have tough discussions to change course. Throughout my career, I've come to realize that these conversations often look the same, whether it's a student-athlete or a professional five years away from retirement.
You're not practicing with us because you didn't get your coursework done.
You're not playing tonight because you skipped practice.
You're not on track to retire in the way you want because you're spending too much now.
You're not meeting the financial goals we set because your actions are inconsistent.
It always hurts to hear when you're told you're not living up to the standard that has been set and agreed upon. But how can you improve if you're not made aware of that issue?
The Importance of Trust in Investing
The key to good coaching, whether it's football or investments, is trust. If you trust that I have your best intentions in mind, and that I care about you as a person, it's easier to have those conversations and accept the corrections that inevitably need to be made.
Trust isn't a one-way street. On the football field, our coaching staff regularly talks about the four components of trust that our team needs to be successful in the long-run:
Players have to trust their fellow players
Players have to trust the coaches
Coaches have to trust the players
Coaches have to trust their fellow coaches
In a financial context, you need to trust that we're outlining the right plan of action to achieve those financial and life goals we establish at the beginning of our process. But we also need to trust that you're making the right decisions for your life and family in your day to day. If you tell us something isn't working with our plan, we have to trust you're giving us all the information we need so we can make the right adjustments.
And make no mistake, adjustments will have to be made. One thing many people from teenagers to business owners get wrong about discipline is assuming that if they do the hard work, they'll be able to sidestep surprises and painful experiences.
That's of course never the case—nothing in this world is ever guaranteed, no matter how hard you work. But discipline gives you the advantage of confidence and strength to be ready for the unexpected, whether that's a trick play by the offense or a sudden drop in the market. You can get burned, but usually these experiences are temporary. By focusing on a long-term perspective, you can continue to build your own success.
That's ultimately the difference between a championship team and an average squad, an industry-leading firm and a mid-tier one. When you're thrown that curve ball, do you respond with poise and confidence or curl up and hope things remedy themselves?
Many times, a lack of discipline doesn't reveal itself until those adverse moments. When the market is hot and money is cheap, it's easy to follow your fancy and throw money at speculative investments in the hope of big returns. It's only when things take a turn for the worse that you see who was really disciplined in their investment approach.
Did those hot stock picks crater your entire portfolio, or were you committed to diversification and proper allocation?
Did you buy fundamentally sound assets or chase the risky high fliers?
Did you keep investing even when your investments were falling or volatile, or did you pull back and wait for clarity?
For the people that gave into their whims or fears, those moments can be painful lessons. For those with discipline and trust in the process, it's a validation of everything they've worked so hard to accomplish and the sacrifices they made.
Here at Cedar Point Capital Partners, we believe that your success is built through trust and a disciplined investment process. That's why we put such an emphasis on building relationships, understanding your goals, and investing your money in research-backed, time-tested approaches. It may not always be easy, but living the life you want is worth the effort.
If you're in the Cedar Rapids area, I hope you'll come out and support your local high school teams this fall. They've worked with such discipline and dedication, and it's an inspiring thing to watch them play for each other. And if you're looking for a new partner to help you game plan for success, reach out and get in touch. We'd be honored to win your trust and build something great together.
---
The commentary on this blog reflects the personal opinions, viewpoints, and analyses of Cedar Point Capital Partners (CPCP) employees providing such comments and should not be regarded as a description of advisory services provided by CPCP or performance returns of any CPCP client. The views reflected in the commentary are subject to change at any time without notice. Nothing on this blog constitutes investment advice, performance data or any recommendation that any particular security, portfolio of securities, transaction, or investment strategy is suitable for any specific person. Any mention of a particular security and related performance data is not a recommendation to buy or sell that security. Cedar Point Capital Partners manages its clients' accounts using a variety of investment techniques and strategies, which are not necessarily discussed in the commentary. Investments in securities involve the risk of loss. Past performance is no guarantee of future results.